By Angela Gonzales | Phoenix Business Journal
Michelle Lind, CEO of Arizona Realtors®, said the eviction moratorium has been tough on landlords who own and manage rental homes throughout the state.
Maricopa County has the highest number of evictions filed in the country, according to an analysis by Princeton University's Eviction Lab.
According to the Eviction Lab tracker, 307 eviction filings were filed in Maricopa County within the past week alone, bringing the total filings to 9,063 since March 15 when the coronavirus pandemic hit the nation's economy, shutting down businesses and putting millions out of work.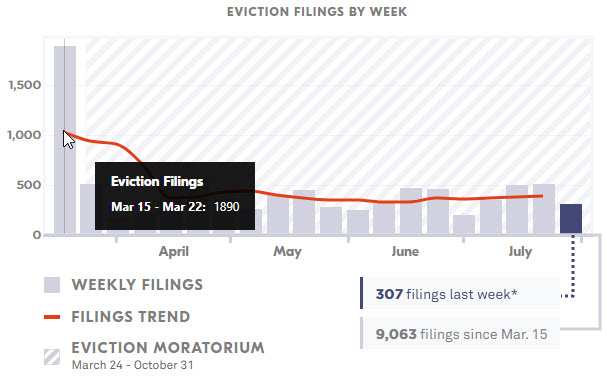 In the 17 cities the Eviction Lab tracks, landlords have filed for 36,581 evictions during the pandemic, with 2,031 filed last week.
But imagine what those numbers would be if Gov. Doug Ducey didn't put a moratorium on evictions, said John Balitis, chairman of the Labor & Employment Department for Jennings, Strouss & Salmon PLC law firm in Phoenix. That moratorium has been extended through Oct. 31.
"One can argue that the magnitude of evictions during such a limited time period underscores that the moratorium was needed to stabilize the situation," Balitis said. "In other words, the eviction effort in Arizona appeared to be more aggressive than just about anywhere else and without the pause imposed by the governor, one can assume that we would have had one of the highest displacement rates nationally. This literally could have created a dangerous scenario, given our extreme summer weather."
While unemployed workers have been saved so far from evictions, the burden has been placed on landlords, said Courtney LeVinus, president and CEO of the Arizona Multifamily Housing Association.
She said landlords have done everything they can to keep their renters in their homes, including waiving fees, reducing rents and accepting partial payments.
That's why her association has teamed up with Manufactured Housing Communities to file a special action petition in the Supreme Court of Arizona to oppose Ducey's moratorium on evictions during the coronavirus pandemic.
Read More (subscriber content)
---
Related stories:
Implementation of Tenant/Landlord Assistance Programs Is Critical
Nearly One-Third of Americans Had Unpaid Housing Bills at Start of August