By Fletcher Wilcox | VP, Grand Canyon Title
On July 16, the Arizona Commerce Authority released its June 2020 employment numbers for Maricopa County. The report showed that after an avalanche of losses, jobs are starting to rebound.
Between February and April, the number of people employed in Maricopa County dropped by 207,000. This drove the number of people with jobs in April down to 1,974,800. The last time we had less than 2M people employed in a given month was July 2018.
Since April, jobs have been rebounding here. This most recent jobs report shows that the number of people employed in Maricopa County is now back over 2M. June gained 14,000 jobs over May, and May gained 30,300 jobs over April.
Although we still have a way to go, jobs have bounced back by 44,300 (21.4%).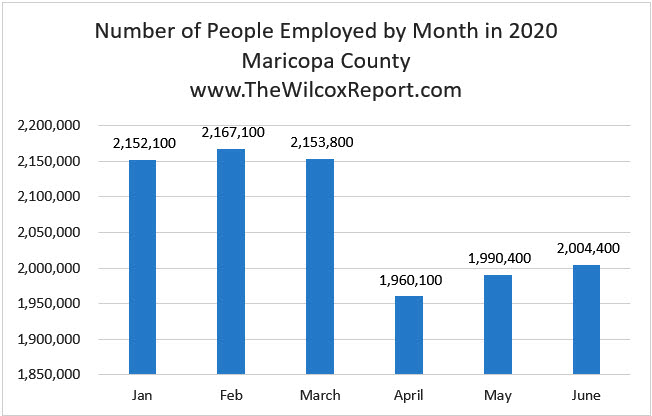 This rebound and record-low mortgage rates emphasize that it's time to ramp up your real estate marketing, but what kind?
Recently, a survey was sent to people who attended my Influencer Marketing sessions from earlier this year. One of the questions asked was: What are the two areas of marketing to Buyers and Sellers in which you would like to improve your skills?
The leading responses were: Video production and Social Media. We will address both during Influencer 3: Sharing Data on Thursday, July 23 from 11:30 a.m. to 1 p.m.
If building an online presence is a new idea or you find video production intimidating, join us to learn ways to dominate social media and take advantage of video tips and tricks.
Our panel of experts features Lee Davenport (Learn with Dr. Lee), Stephen Garner (HUB Media Co.) and Rafi Isaac (South Mountain Films). Two of them are REALTORS® and one has a title company background, so they know this industry.
In 90 minutes' time, I will give you the latest market trends and the four of us will explain the best data-sharing techniques to make marketing messages more memorable.
Register NOW for Influencer 3: Sharing Data and be sure to bring your questions!