On June 25, Scottsdale REALTORS® hosted a Virtual Town Hall that included National Association of REALTORS® 2020 President Chief Economist Lawrence Yun.
Below are some slide highlights and commentary (video presentation here).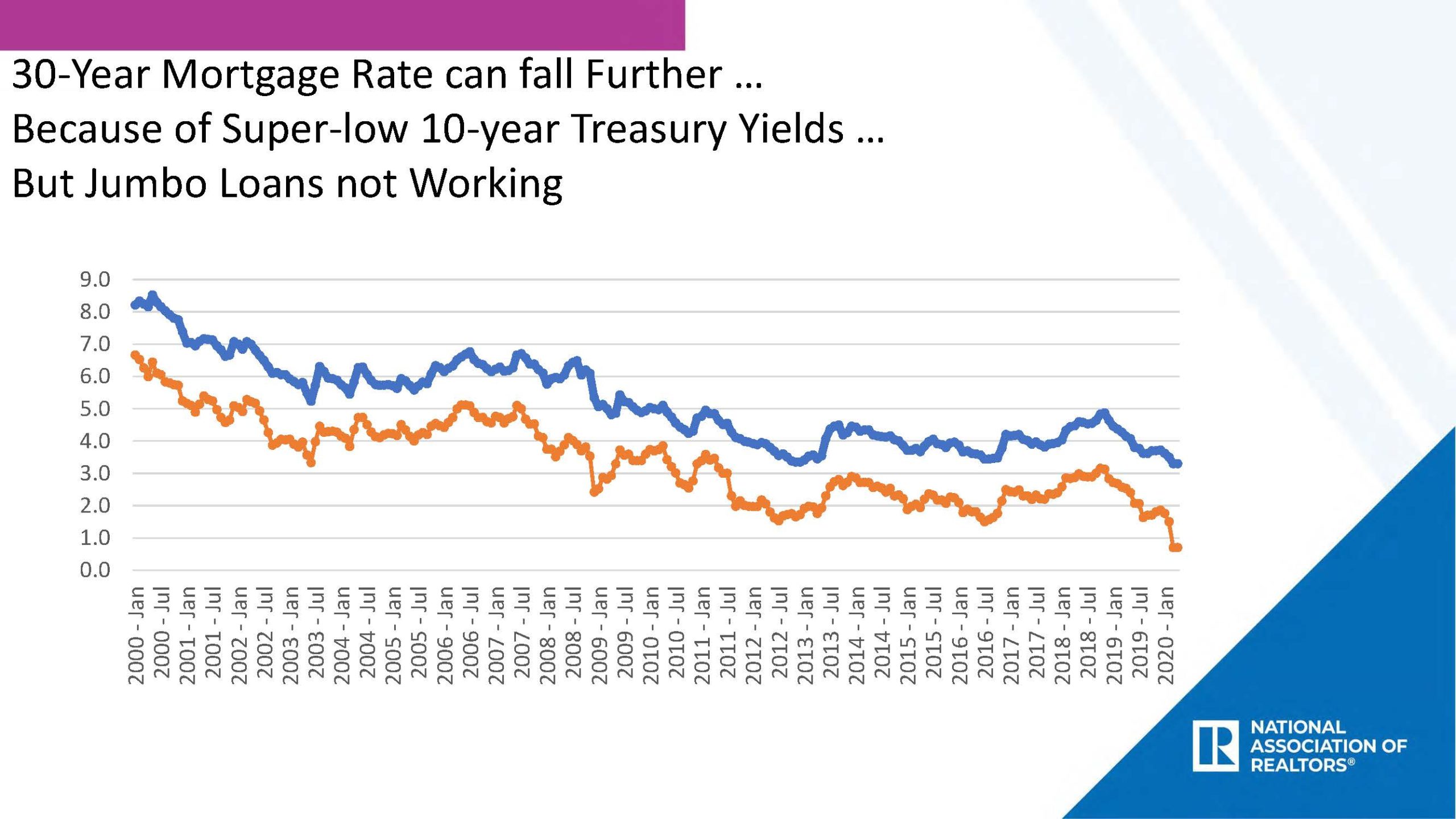 Blue: All-time low Mortgage Rates, averaging 3.1% | Orange: 10-Year Treasury Borrowing Rate
Yun:
"Both are moving very similarly, but the last data point is indicating that there is a larger than normal gap. So possibly in two or three weeks time, the mortgage rate may slide under three percent; possibility, not a guarantee.
"Jumbo Mortgages are not working. It requires a 30 percent down payment, pristine credit score to obtain it because anything that cannot be purchased by Fannie & Freddie is very, very difficult. If you specialize in luxury homes, just understand that getting those jumbo mortgages are a little more difficult."
Something to share with your clients: If you lock-in at low rates today, your monthly (mortgage) payment will not change next year, five years from now…you're completely fixed. We don't know for sure if there will be high inflation in the future years but if there is, someone who is locking in today's rates…they are benefiting from rising real estate prices, but their monthly payment is not rising. – Dr. Lawrence Yun
---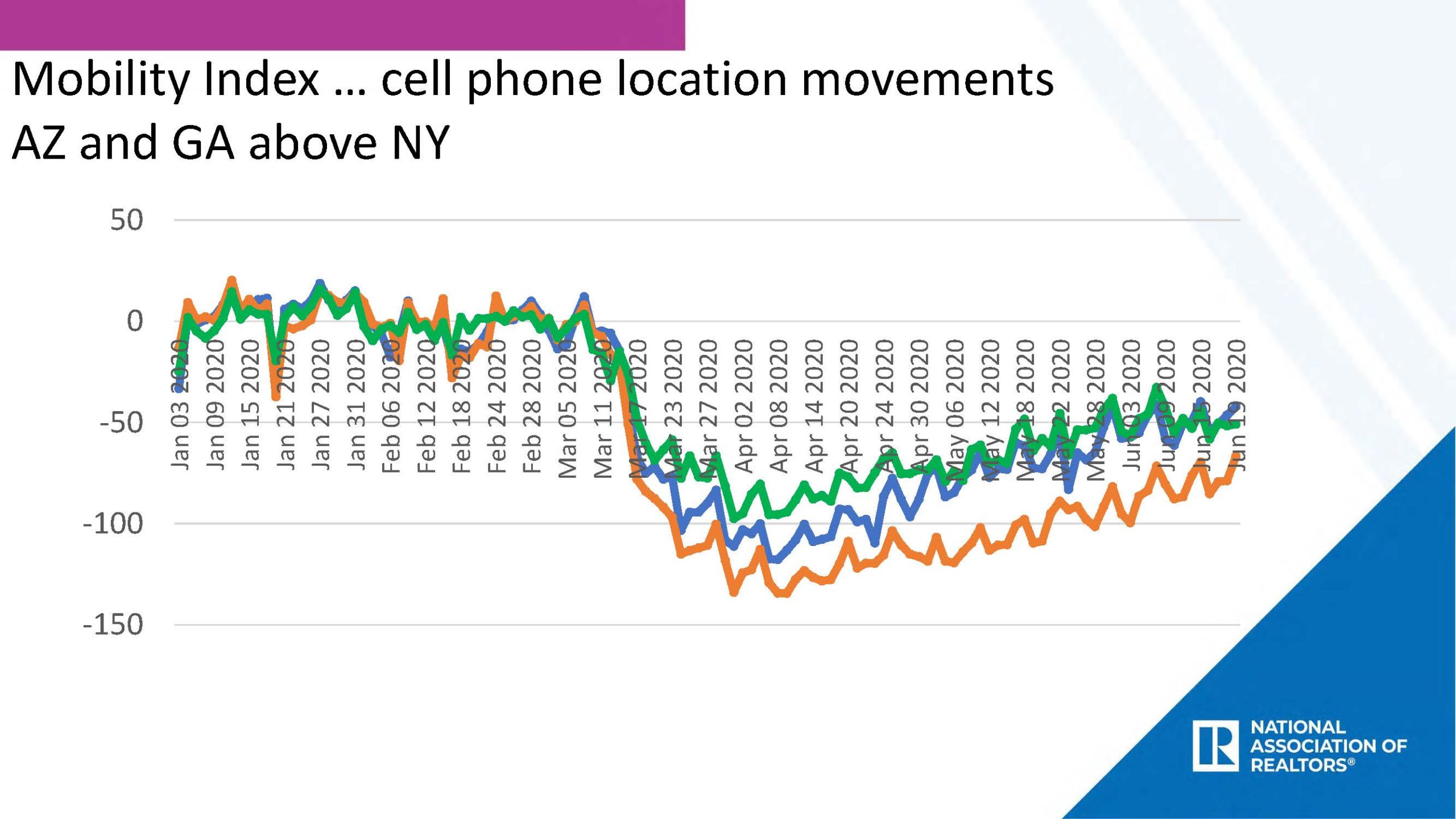 Blue: Arizona | Green: Georgia | Orange: New York
Yun:
"This is looking at the cell phone and how the GPS system is moving. Are people simply staying at home or are they moving from their home to other parts of the town?
"Georgia was the first state to reopen…When Georgia reopened as related to the economy, listings were popping out and those listings were being quickly grabbed by the buyers. New York had a longer lockdown, they contained the virus but at the expense of some reduced economic activities…now you see some NY activity rising. Arizona is now actually outpacing Georgia in overall GPS movement of the cell phone."
---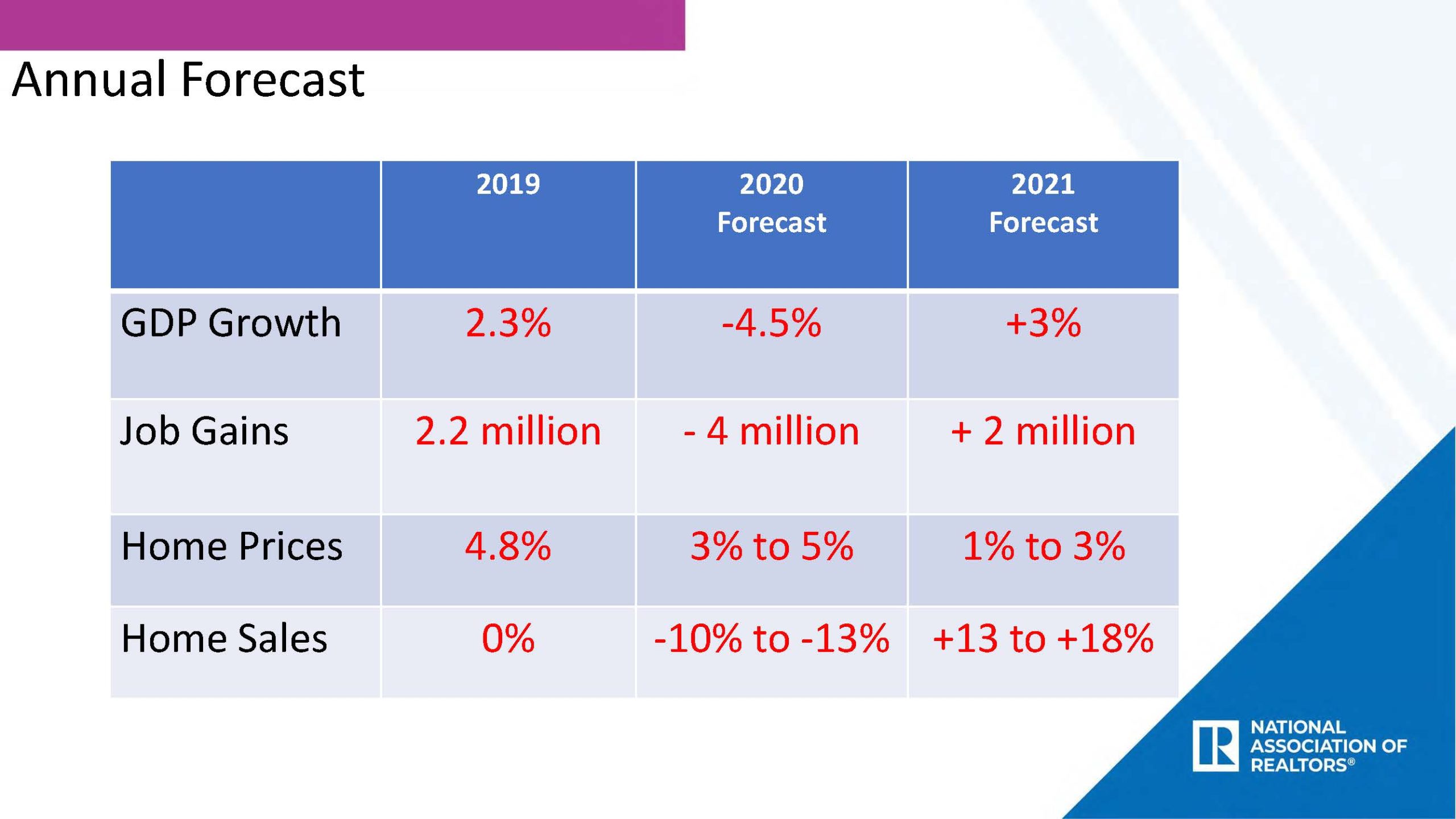 Yun: "As we move into 2021, the Economy should be positive: Out of the Recession. Job Creation. Home Prices would be rising, but that will depend upon whether we have a sufficient supply or lack of supply. If we have lack of supply, then prices will be boosted even faster. Home Sales will be solidly positive — 13 to 18 percent growth in 2021. Which means that whatever we miss in the spring buying season in 2020, it will easily be made up in 2021."
---
Related article: Virtual Town Hall Highlights