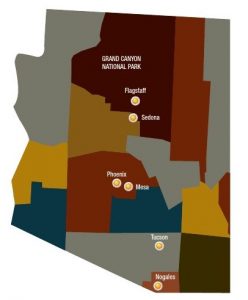 Global interest is sparked in Arizona as well as Colorado, Nevada, New Mexico, Utah and Wyoming. In an assessment of these local markets, the National Association of REALTORS® examines ways to help cultivate global business. The recent publication (hard copy and online) reviews case studies, which offered details that can be applied to any market.
The early reports regarding economic recovery in the U.S. and in Arizona (especially the Phoenix-metropolitan area) reveal how the state is poised to become the national residential real estate market leader in 2017. Additionally, Arizona steadily ranks amongst the top four in the U.S. for international investment, which makes the region primed for a positive response in the commercial market as well. With the outlook for this market trending upward in Arizona and with the expectation for it to continue throughout 2017, the following serve as just a few examples of commercial segments, showing considerable growth beginning in 2016 and forecasted to grow steadily this year:
Multifamily markets are expected to keep growing particularly in sunny regions such as Phoenix where there is growth in employment, the climate is highly desirable and living costs are comparatively lower than other regions. This is keeping demand high and vacancy rates low.
Retail markets showed a net absorption for last year exceeding 1.5 MSF, while the final quarter of the year saw asking rents somewhat lower but still with an increase of 1.6 percent over the previous year.
And according to experts, warehouses and industrial facilities, office and retail spaces, senior housing and medical establishments are all showing an upsurge.
The upsurge of commercial real estate is supported by local thriving communities, job growth, appealing climate, diverse culture and top talent in the highest-ranking industries and innovative academic institutions. Additionally, many of the diverse regions of our state play host to a myriad of annual special events—both business and residential, both local and national—which boost perennial interest in the respective regions. Yet another reason companies of all sizes thrive in Arizona—we continually invite visitors and they tend to stay!
For all these reasons and more, so many investors find interest in our great state. If you missed it, take a look at the Local Market Assessment Region XI to learn how the cases studies may apply to your current or future business.