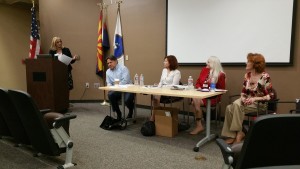 On Saturday, February 20, 2016, the Scottsdale Area Association of Realtors® put on a free event at Scottsdale Public Library's Mustang branch. The event featured a panel of real estate professionals, including a real estate agent, a lender, and a title representatives.
Over a dozen Scottsdale residents were in attendance to learn about the home buying and selling process in Scottsdale. Topics of conversation included Home Owners Associations (HOAs), changes to lending, FICO scores needed to qualify for a mortgage, and how to choose a real estate agent to work with.
Panelists recommended interviewing at least three real estate agents before choosing one, as well as researching the agents' designations and education on websites such as services.azre.gov and ScottsdaleREALTORS.org. Real estate transactions are complex, and it is important to work with a professional real estate agent who can readily identify potential pitfalls in the contract and make sure you are in touch with the right person to provide professional advice on these issues.
About SAAR The Scottsdale Area Association of REALTORS® (SAAR) is a 501(c)(6) nonprofit trade association serving more than 8,000 members. SAAR members specialize in every aspect of the real estate profession, including residential and commercial sales, property management, as well as supplemental services such as appraisal, financing, escrow, title and inspections. Formed in 1963, SAAR is the only nationally-accredited association in Arizona and has also earned the reputation of being the Voice for Real Estate™ for the Scottsdale, Fountain Hills, Carefree and Cave Creek communities. More information can be found on SAAR's website at www.ScottsdaleREALTORS.org.
REALTORS® is a registered collective membership mark which may be used only by real estate professionals who are members of the National Association of REALTORS® (NAR) and subscribe to its strict Code of Ethics
Media Contact Lysa Fitzhugh, 480-945-2651, Lysa@ScottsdaleREALTORS.org